Executive Podcast #241: Finding Time for Leadership

When a group of leaders were asked how things were going with their leadership, one executive said, "I have been so busy lately I haven't really had time to do a lot of leading." What this leader doesn't understand is that you are always leading, whether you know it or not. It makes you wonder what gets dropped when you are "busy."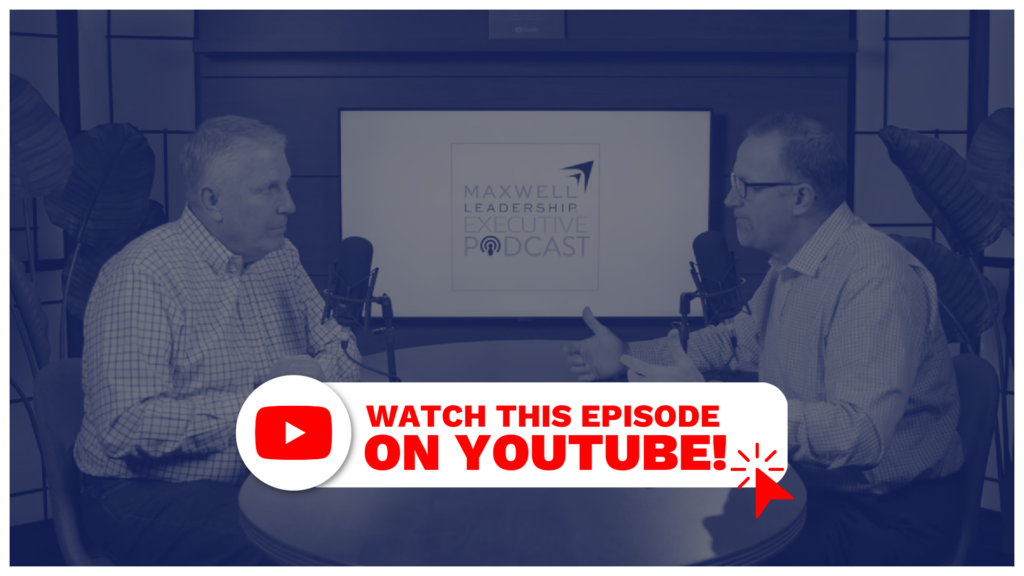 Download our Learning Guide for this podcast!
Perry Holley:
Welcome to the Maxwell Leadership Executive Podcast where our goal is to help you increase your reputation as a leader, increase your ability to influence others, and increase your ability to fully engage your team to deliver remarkable results. Hi, I'm Perry Holly, a Maxwell leadership, facilitator and coach.
Chris Goede:
And I'm Chris Goede, executive vice president with Maxwell Leadership. Welcome and thank you for joining. As we get started today, I'd love for you to visit Maxwellleeadership.com/podcast. There you can leave a question that you have for us that we can unpack on a future podcast. Maybe you have a comment around leadership, a thought we would love to hear that Suggested Topics. Suggested Topics helps Perry out as he creates all this awesome content for us. Maybe you're looking for some virtual training with your team, which we are doing a lot of, doing a lot of in person, but we're also doing a lot of virtual training and coaching. So you can leave your name and company information there and we'd love to connect with you in regards to that. Well, today's topic, I was intrigued by this and we talked a little bit about it during the break and I think this is something that is more relevant than what we probably think and admit and that is finding time for leadership. We all talk about not even having enough time in our calendar to do anything. And now we are looking at this of saying how do we find time? Can we we're going to unpack this a little bit today. To me, it's really about the availability for your team at the end of the day and I think that's important as you work on a team. So Perry, what drove this topic, this thought that we're going to be bringing to our listeners today?
Perry Holley:
Yes, I was on a group coaching calls. We do this a lot. We may deliver a workshop and then we group coach the executives, eight or ten that were in the room. So that's a couple of months out from the facilitation and I always start th coaching call by saying what's new in your leadership? What's going on in your leadership? What have you done since the last time we spoke? We made some decisions and what have you done with that? Give me an update. And th head person on the call kind of rubs their head and goes, man, it has been so busy. We have been hedged down. So busy I haven't had time to lead. My head just about exploded, but I can held it together. I go what? And I did use it as a coaching moment to say, listen, you are always leading, either poorly or greatly, whatever people are watching, you don't get a break from this. And it got me to wondering what exactly gets dropped when you're too busy in your mind, too busy to lead. And I wondered if you ever face this, you're a busy dude. I was wondering, I don't see this in you. I feel like you're leading in being busy, but how does this relate to you?
Chris Goede:
So 100% do I struggle with this? Right? We can become a slave to our calendars, which seems to be happening certain times in my leadership. And when you asked that question, what came to my mind was, am I a doer or developer? And I think we've talked a little bit about this, maybe in the past, but it's where it came back from. I don't know if we were with th client and we had this conversation or the content, and I was like, am I just focused on being a Doer, or am I focused on being a developer? And when you put it in that lens, you go, if that's the case, and I want to be developer, I have to be a doer, but it's got to be in and through and with my people.
To be a Successful Leader, You Need Feedback on Your Leadership.
We're excited to announce our new and improved Organizational Effectiveness Survey (OES). The OES gathers feedback from employees to give leaders and management the knowledge and action plans needed to develop a more effective and productive work environment. Our new version measures 4 areas of your business: Leadership, People, Strategy, and Performance.
Perry Holley:
That's right.
Chris Goede:
Which is called leadership, which is called influence. And so, man, I 100% can resonate with that, but it's not an excuse. And I think what was frustrating you about the experience you had was, well, first of all, we're in the leadership business, and so we're like but I think what's frustrating was that's on you, we have to be intentional about that if we want to develop people. And you and I believe that's the leader's greatest return that we could ever do is to develop people, then to go and succeed as a leader. And so it is a real challenge there's 100%, and I deal with it, but you got to fight it every single day.
Perry Holley:
Yeah, and I totally agree. I fight the same battle. And to me, often comes down to and we teach this in the five levels class. We ask, what's the difference between management and leadership? And we can go through back and forth about what that is. But what I felt like Chris group was doing and what you and I confess that we've struggled with, I spend all my time managing and not actually leading. So I'm managing the process and the business and not really leading the people. But today, I wanted to review a certain number of things. You figured out what the number is of ideas about how you can move to making time for your leadership. But I'll tell you, just, if you turn the podcast off now, here's what I want you to know. Leadership is not adding new things to your calendar. And what my saying, as I've been learning about this was, stop trying to add leadership to your calendar like it's something new, but take what's on your calendar. Make leadership moments of the things that are already on your calendar.
Chris Goede:
Really?
Perry Holley:
So stop adding leadership as a separate entry into your calendar, but add leadership moments to the things that are on your calendar.
Chris Goede:
That's brilliant. Like, you can turn the podcast off right now that is a Twitter moment. Hashtag perry holley quote but you shared that with me right before we went live on this podcast. And I was like, OOH, that statement is really deep. That's good.
Perry Holley:
Just the example we were just giving that if you have things on your calendar like I was telling Chris, if he's going to go down the hall to meet with our CEO, Mark Cole, and they're going to have a meeting that's scheduled about a 90 minutes meeting on the 2024, 2025 strategy. And he looks back around and he looks at a couple of his key players that are in their offices there, and he says, hey, I've got this meeting coming up this afternoon. I'd like for you to join me in that. And I don't want you to talk, sit up against the wall, take notes, whatever, but we'll debrief it later. But I want you to see, get a feel for how leadership works around here, how we plan, how we strategize. I want you to get a feel for how Mark works, how I work. And what you're doing there is you had an event on your calendar, a 90 minutes call, and now you just made it a leadership moment by a leadership development moment or a strategy development. There's a lot of benefit in doing that. Now you can't invite everybody to every meeting. There's a lot of meetings that are private. You can't do that. But I'm just finding that I had a leader that did this once, and it really struck me odd that he didn't miss everything on his calendar. He kind of looked at even lunch sometimes. He said, hey, come join me for lunch. I want to talk about your career. Okay, that's a leadership moment. It's a development moment. I think there's lots there. And I put down list said, what are the things that could be dropped? What are the actions of leaders? So, vision and strategy, communicating, inspiring, making decisions, delegating, building relationships, coaching, mentoring, leading by example, monitoring, evaluating, performance, handling challenges, continuous learning. There's all kinds of things. There's way more than this, twelve that are on this list. But what do you think gets dropped when you don't have time for leadership?
Chris Goede:
Well, I'm a little concerned because I was excited about we might have the number five in this lesson, but you started off with twelve points. I'm not sure where you're going with.
Perry Holley:
This, but I just was trying to mess with you.
Chris Goede:
You might have to listen to see if five shows up. But I think it's interesting. I do think this is a list of twelve. I think to your point, there's probably just a whole slew of other things that as actions of leadership that we need to make sure that we're thinking about. If this list that you just talked about here, if you said to me, hey, what's the one that if we dropped or would kind of maybe mess everything up. And it goes back to something that every single leader talks to us about when they're on the phone. And I think I experience, not I think I know I experience, and I know you experience, and that is communication. If a leader cannot communicate, then what good is the vision? What good is the relationships, the expectations? There's all kinds of gaps inside there. So for me, I think the word communicating of this list of twelve, I think that impacts every single other one as a leader that we need to make sure that we're focused on.
Perry Holley:
So I do have five strategies.
Chris Goede:
There it is for this, but I.
Perry Holley:
Want to make these practical. But let me tell you, the overall big learning already gave you was make moments of the things already on your calendar. Don't miss that. But here's some practical ideas, and I'm going to throw them at you one at a time. We'll move quickly, but they may sound insignificant, but I think for me they have been meaningful. Number one was the practice of calendar blocking. Are you leaving your calendar wide open or do you block it for important things? Why are you shaming your head down?
Chris Goede:
Because I feel like, I think I believe in that principle as a concept, and then I thought and then protect it. Because for me, block, I have good intentions. Perry, I'll put blocks all over my calendar, but then all of a sudden I'm like, well, Perry, yeah, we need to connect. Yeah. Then I need to jake. Whatever. And all of a sudden I'm like, I mean, it was on there Sunday night. I don't know what happened. And so my thought was, man yeah. To do that and protect it. I think you've got to be so intentional about this and communicate it to your team as well and just say, hey, I had the opportunity one time to have lunch with a former Chickfila executive, and he was probably one of the first ten Chick-fil-a employees and kind of helped build what it was. Ran marketing departments.
And so I said, hey, what was one of the keys to your career that you felt like you allowed you to think on the business, be in the business, and all Chris stuff? And he goes, oh, it's pretty simple. So I pull up my pen, I'm like, Give it to me. He's like, Friday from twelve to five, I blocked out my calendar and would not have a meeting, would not whatever he said, that was my time to reflect on the business from that week. What are we thinking about for the next week? It allowed me to spend some time really doing what I needed to do before I got to the weekend. Sometimes I had to work on the weekends or whatever, but then I was able to be present with my family on that. And so I thought, man, there's a guy that led at a very high level for a long time. And every Friday from twelve to five, he didn't have a meeting, didn't have a call, but it was on the business and he said that's probably the best thing he had done for his career at Chick-fil-a's and Executive. So man, practice that calendar blocking like Perry's talking about and then protect it. Yeah, that's my ad. Protect it.
Perry Holley:
I like that. Number two was, and I think it helps with the blocking is be very clear about your priorities. To me was there's a lot of things competing for your time and your people, your leadership, your business, all those types of things, but what's your decision making filter for that? It is your priorities and the ability to say no, which you and I both struggle with, is impeded by a lack of being clear on what it is we're trying to do.
Chris Goede:
Yeah, I love this because I think if you have too many things on there, you're not able to strategically allocate your calendar and your time for leading and developing people. And as you come up with that list of priorities, as you talked about in decision making filter, my first comment is review it often. A couple of weeks ago, I just spent a day away and was just some of the changes that we have in the organization or responsibilities and shifts. So I blocked out the entire day and I got away and I just said, okay, what are my priorities? And then how do I communicate that to the team so that they're aware of that? And as I went through that, I noticed, man, I'm glad I'm reviewing this because of my priorities, because they're drastically different than what they were two months ago, three months ago. And so one of the things in developing this strategy to set my calendar up is to be able to do that and make sure that maybe some things that are not as high of a priority don't make it on the calendar. Which, again, then goes back to as a leader, being able to find time for the people. So, yeah, I think that's key. But my ad to you there is to review it on a timely manner because it's going to change.
Perry Holley:
I have a process. Every evening before I close down for the day, I use a three by five index card to capture my three most important things for tomorrow, looking at whatever's changed. I had a plan for the week, but where are we? What's changing? What do I need to be working on? And I start early, so I don't want to be sitting at my kitchen counter waiting on the coffee to brew, wondering what am I going to be doing after I have my morning routine? What is the first thing I'm going to be doing? I know the most important things first, and then I reassess that at the end of the day for tomorrow, and I'm carrying that card with me right now. I know what's got coming up.
Maxwell Leadership Growth Plan Ad:
Leader, you know better than anyone that growth is essential if you want to make tomorrow better than today. But fitting growth into your calendar takes intentionality and self-discipline. So let Maxwell Leadership help make your growth achievable. You're invited to join thousands of worldwide leaders in using the Maxwell Leadership Growth Plan. The Maxwell Leadership Growth Plan provides you with convenient and easy to implement leadership resources, including video lessons from John Maxwell, all at your fingertips. Available in our Maxwell Leadership app or online, you'll be coached by many well known leadership experts that will help you achieve your growth goals. You can even listen to this podcast right there in the app. Check it out for free today at Growth.MaxwellLeadership.com. That's Growth.MaxwellLeadership.com.
Perry Holley:
Number Three says this one's huge scheduling one on one meetings with the people on your team. I am stunned by the number of leaders in our coaching practice that either when I say this, think it's a new idea, or yeah, I used to, but I don't anymore. To me, this is fundamental to at least having that. Everybody on your team knows they have time with you each week or each two weeks that they have dedicated time with you. I see your head dropping again.
Chris Goede:
I'm with you. I can't believe how many men and women that are leading people that don't have regular one on ones. It doesn't have to be every week, and it doesn't have to be an hour and a half long. It simply could be that it's every other week. It's 30 minutes. It's the agenda about them. How in the world can you lead an organization or a team that the direction you want it to go in if you're not having regular one on one? I was working with a close friend of mine who has a small organization that he's building, and the structure of his leadership team grew faster than what the organization grew. And as we saw the organization growing, he came to me and he's like, I feel like we're a little off target, we're a little off. And I was like, well, how often are you meeting with your key leaders? He goes, I leave that to my general manager. I'm like, Wait a minute. We're not running a 100 billion dollar business where you have different tiers of leadership. Like, you got to be having one on ones. And so I think even if you bring that down to a very small team, they will capture your heart, the vision, the strategy, if you're having these. And so I don't know how people can go about not having this at least twice a month with their team.
Perry Holley:
Yeah, I won't go back to the twelve that I listed things on leadership, but a lot of the twelve can be compensated in that 30 minutes, one on one, where you let people know. You see them, you know them, you listen to them. It's just fantastic.
Chris Goede:
And I know the last thing you're looking for is to attend another meeting. I know how you feel about meetings, but you have to have these. These are critical.
Perry Holley:
That one I like because it helps me stay connected. Yeah, almost. Don't get into me in meetings. Number four, john would call it walk slowly among the people. I'm old enough to know that it was called practice MBWA Management by walking around, but I don't have time to walk around. I hear you saying, find creative ways to get out and walk through the office, walk through the plant. What if your team is remote? How do you walk among the team when it's remote? Might be scheduling those one on ones. Might be catching a few minutes of how you're doing. What are your thoughts on MBWA?
Chris Goede:
So one of the things I started doing was I realized that in my calendars, we were kind of blocking out meetings, that they were every hour on the hour, and they were an hour long. And I realized I would come into the office, and before I know it, it was the end of the day and I'm leaving, and I didn't see anybody on my team or in the organization. And so I have shortened my meetings to 30 or 45 minutes, still try to keep them on the hour. So that allows me, if I then have a break and I'm walking to another office, whatever, I know I have a little bit of time to pop my head in an office and be like, hey, what's going on? That's really good, and whatever. But so again, back to one of your points earlier. I'm not calendaring it. It's on my calendar. And so I'm leading through it knowing that I've got some opportunity to touch base with that. Now, I think you posed a really good question here, which is, how do you do this with remote teams? And I've heard people with some creative solutions around Zoom meetings, and they just pop in. Some are not business, some are. I know one executive that will say, hey, I have open door policy from two to four on Tuesdays and Thursdays. And what she does is she sits at her home office while she's working, but keeps zoom up, and people can pop in there and just check in. And it's something that so you got to get creative. But, man, I think this is huge to being a developer of people, to making sure that you're practicing leadership on a daily basis.
Perry Holley:
I like the ad there about you added a leadership moment to something already on your calendar.
Chris Goede:
I'm listening. I'm paying attention.
Perry Holley:
Last one. Number five, I just said to delegate more, are you doing too much? That's what I asked this senior leader, is, Are you doing too much? Are there things other people could be doing. And the big question that we've loved it here for a long time is are you doing the things that only you can do?
Chris Goede:
That's right.
Perry Holley:
Are you doing a bunch of things that others could do? Because if you're doing so much that you don't have time to lead your people, that's a problem.
Chris Goede:
Yeah. We're not trying to get you to a point of a leader where you're unloading everything that you're doing and delegating this. To Perry's point, there are certain things that only you can be doing. I want to challenge you. This is a question I'm starting to ask myself more and more, which is as I go through an activity, a project, something we're working on, asking myself, who on my team or inside our organization would actually enjoy doing this more than I would or is more qualified to do this than I am. And then reaching out and say, hey, would you be interested in would you help with this? And more than likely they're going to say yes, especially if I know it fits into their skill set. Like for you around writing and studying and learning content or speaking. You've told me numerous times, hey, listen, you have a busy schedule. If there's an organization that wants you to come do a keynote as a value add, just pick up the phone. Like, I love doing that, I'll go do that. Right? And so that is in essence delegating. But it's really kind of partnering in a way that everything that's on your plate into something that the other person may enjoy or is better skilled at than you to be able to do that.
Perry Holley:
And I just maybe you comment briefly on I know you've got a great administrative partner. Now, I notice a lot of execs. Sometimes the more senior they are, the better they are at this. But early on it's tough to leverage appropriately leverage. And I know you're new, Angie's, kind of new to the team. And what have you learned about leveraging an administrative partner that helps with this juggling of doing the right things?
Chris Goede:
That's a great question. So remember I mentioned just a little bit ago about me spending kind of a day away on the business? So I created this document that was several pages long.
Perry Holley:
That was manifesto.
Chris Goede:
Yeah, it could be. I'm going to send it into our publishing company, by the way, if you have a book idea and we have publishing company. And what I did was I just kind of data dumped onto this document and then I categorized it and then I put it by priority back to what I was telling you about, like, okay, so some of the priorities have shift. So had to move some things around and hey, this is a priority and this is what I was thinking. And so I have this massive document. So she took that document and created it into kind of a form and now we're going through, and she's saying, okay, when does this need to be completed? Who can help you with this project? What does that look like? How can I take that off your plate? And so she's helping me think through that process, and that has been huge for me to be able to do that. The other thing that she's doing is she'll every day say, hey, what happened yesterday that I need to be aware of or that I can help you with moving forward? Because then she'll hear me talk about it, and she'll be like, don't you think Perry could probably help us do that a little bit quicker than maybe you could? And better, by the way. And so just being able to kind of she understands the leadership concept of this, and to have somebody can hold me accountable to that yeah, I'm loving that is really helping me, especially when a pile of stuff comes your way.
Perry Holley:
I just noticed that all the podcast recordings for the rest of the year are all magically on my calendar. All of a sudden, that never happens.
Chris Goede:
Yeah, there are a lot of things that people are like, Goede, what's going on?
Perry Holley:
But it's important when you're talking about not having time for things, are you appropriately leveraging your administrative partners to hold? I love that.
Chris Goede:
Yeah, 100%. Well, as we wrap up, let me come back to the five things that Perry brought to us. Not the twelve. We'll stay with twelve. Although, as you do wrap up, I want you to rephrase that quote that you led with, because I think it's just so powerful for us as leaders. But as we wrap up, here's what we talked about. If you want to get to a place to where you have the ability to find time for leadership, if that's really what we're going to stay with, we want to make sure that when you have a busy calendar, you're thinking about a couple of things. Practice calendar blocking and then protect it. Number two, be clear about what your priorities are. So what gets put on the calendar is in the rank of your priorities. Number three, man, schedule your one on ones with your team, with your people. Management by walking around is number four. And then the last one that we just talked about is, how do you delegate more? And not just to delegate. You heard Perry and I talk a little bit bantering back and forth. It's more than just saying, I have a to do, so I'm going to give it to dumbing. That's dumping, not delegating to dump on somebody else, right? It's much deeper than that.
Perry Holley:
Well, thank you for joining. And the quote was that stop trying to add leadership items to your calendar. Make leadership moments of the things that are already on your calendar so good. If you can do that, you're off to a great start. If you want to leave a comment or a question or if you have an idea for us, we love hearing from you. You want to get the Learner guide from today's lesson. You can do all that at Maxwell Leadership.com /podcast. We love hearing from you and we're very grateful you'd spend this time with us. That's all today from the Maxwell Leadership executive podcast.