3 Ways Leaders Can Mobilize Team Members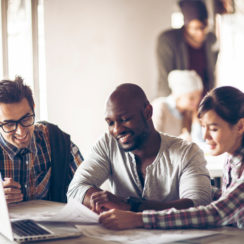 One of the most critical tasks of a leader is to mobilize team members.
While it might sound simple, it's actually quite challenging, especially for those stepping into a new leadership role. So, how do you motivate your team to strive for greatness? The short answer is that you cannot motivate anyone to do anything, because motivation comes from within. But, what you can do as a leader, is cultivate a supportive environment that inspires teamwork.
To build a strong and motivated team, focus on three key areas: innovation, collaboration and communication.
Innovation. Inspire the people you work with to be creative. The open exchange of ideas among employees in all levels encourages innovation, which is critical to keeping a business competitive and successful. Appreciate and capitalize on the diverse strengths of your team and seek to create teams with various qualities. Not only should you encourage your team members to conceptualize creative solutions to challenges, but actually let them try them out. This will help build a confident, open and self-assured team.
Collaboration. In addition to promoting an innovative environment, it's equally important to ensure that your team members work together. When utilizing the collective strength of your group, you'll start to see powerful results. Most leaders will quickly learn that they don't have all the answers and that their business' most complex challenges should be discussed and faced as a team. In our most recent edition of Executive Circle, we learned how CEO of Meijer, Rick Keyes, views his fellow team members as a tremendous resource for coming together to build solutions around the company's challenges.
Communication. Communication is critical to building a powerful team, and good communication means really connecting with your people. Are you listening to your team? Are you asking questions and being curious? As mentioned above, it's important to be vulnerable and share your faults and challenges with your team. This will promote open two-way communication and enable you and your team to grow and develop together. You can learn more tips about how to connect with your team in Episode 6 of our Executive Leadership Podcast.
Cultivating a strong and motivated team all comes down to giving everyone a voice.
An empowered team will speak up in meetings, try new ideas and push through fears of failure. It's the encouragement of growth in each team member's strengths that will drive powerful results and, ultimately, create more leaders.
Deb is a coach and facilitator for The John Maxwell Company, leveraging her successful executive background in operations and global services for the consumer goods industry.