4 Ways To Think Like A Leader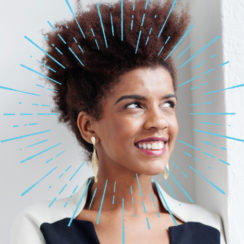 If you are reading these words, you probably care about growing leadership capacity—both for you personally and for your entire team.
You know how important it is for your company's success that your leaders be equipped to make sound decisions that align with the big picture.
If you're concerned about how well your managers think about the big picture, you are not alone. Recent studies reveal growing concerns among employees that their managers and executives lack the skills necessary to lead effectively.
Edward Cone, managing editor of Thought Leadership at Oxford Economics reported, "Our research shows that the C-suite is out of touch with HR on business strategy and priorities, and workers are not getting what they want from their employers…"
Many leaders have reached what they believe to be the height of their potential and stop there. They plateau at a place that is "good enough" and focus solely on their own corner of the company.
They easily get buried in their own department, projects, and priorities, and miss the opportunity for continued growth for the company as a whole.
Your managers can avoid this corporate stagnation and boost employee satisfaction learning how to think like a leader, because big-picture thinking lays the foundation for detailed strategic thinking. Forbes contributor Holly Green reinforces the bottom-line importance of seeing the big picture: "The ability to ponder possibilities, see patterns and connections that others don't see, and look at the same data in new and different ways represents a formidable competitive advantage."
When your managers think like a leader, they positions themselves for success. Here are four practices every big-picture thinker can use to grow. Share them with your team to start healthy, growth-oriented conversations:
1. Learn Continually. Big-picture thinkers are never intellectually satisfied. They are life-long learners. To help maintain a learner's attitude, our founder John C. Maxwell spends a few moments every morning thinking about his learning opportunities for the day. Reviewing his calendar and to-do list, he notes where he is most likely to learn something and remembers to look attentively for something he can use to improve himself in that situation. Your leaders can do something similar to ensure they are ready to learn each day.

2. Listen Intentionally. An excellent way to broaden your experience is to listen to someone who has expertise in an area where you don't. Big-picture thinkers recognize that they don't know everything. They frequently ask penetrating questions to enlarge their understanding and explore new resources such as podcasts, TED talks, and personal interviews with experts and mentors.

3. Look Expansively. Human beings habitually see their own world first. For example, when people arrive at one of our leadership workshops, they want to know where to get coffee, whether they'll get good (and comfortable) seats, and if the breaks will be spaced to their liking.

When our facilitator arrives to facilitate the same workshop, he or she wants to know that the lighting is good, the sound equipment is operating effectively, whether the speaker's platform will be close enough to engage your team, etc. Big-picture thinkers realize there is a world out there besides their own and make an effort to view the world through other people's eyes.

4. Live Completely. The truth is that you managers can spend their lives any way they want, but each life can only be spent once. Becoming a big-picture thinker can help anyone live a whole and fulfilling life—and that means being more productive in all they do. People who see the big picture expand their experience because they expand their world. As a result, they accomplish more than narrow minded people. They are more tolerant of other people's thinking and experience fewer unwanted surprises because they are more likely to see the many components involved in any given situation: issues, people, relationships, timing, and values.
The bottom line is this: when your managers know what it means to think like a leader, they prepare your company for unparalleled growth. When you unite this big-picture approach with a proven paradigm for leadership growth like the 5 Levels of Leadership, you give your team a common language you can use to talk about the leadership growth process and a framework for everyone to think like a leader.
Set yourself and your team up for success by sharing these four practices of big-picture thinkers—and watch your leadership capacity soar!
---
REFERENCES