An Open Letter to Veterans on Veterans Day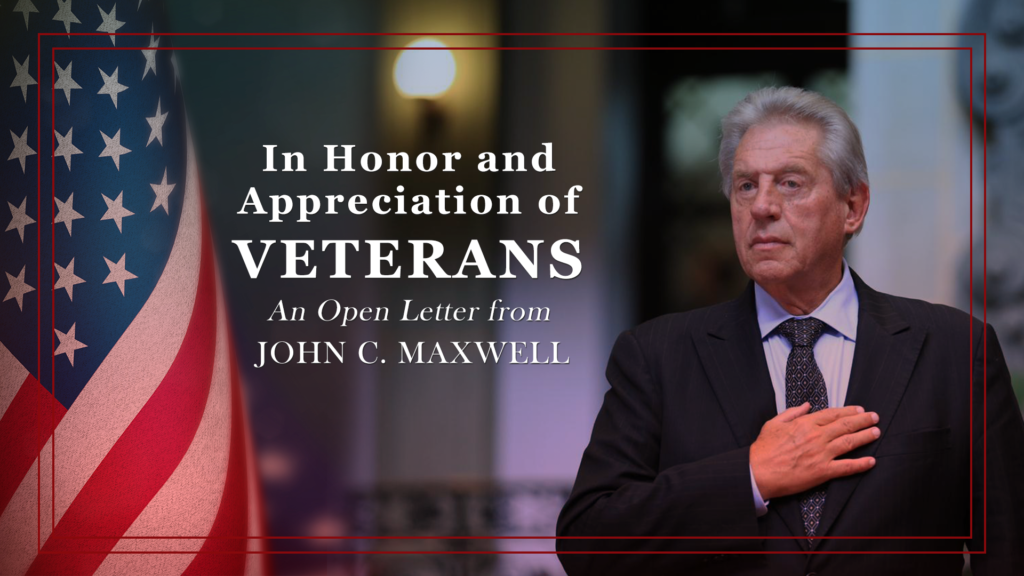 I want to take a moment and write to the women and men who make up the 18.2 million veterans in the United States of America. Today is Veterans Day, set aside to honor those who have worn the uniforms of the Air Force, Army, Coast Guard, Navy and Marine Corps while serving our country at home and around the world.
I've been blessed to speak with and for our military on different occasions, and while I'm grateful for each person who actively serves, I am especially grateful for those whose service is behind them. To honor our veterans, I want to share just a couple of thoughts around the idea of values.
Our veterans have contributed much value to my life and yours, and it's only right that we stop today and acknowledge our appreciation for them because they willingly gave of themselves for a bigger cause.
The Value of Values
For the last few years, my team and I have worked in Guatemala, Paraguay, and Costa Rica towards the goal of transformation. We've led roundtables, held events, and worked closely with the citizens of those countries to help influence lasting, positive change that will impact future generations.
At the root of everything we're doing is values—good values, held deeply in the hearts of individuals—are what transform communities and countries.
Values matter, and the values of the US military branches reflect that truth. Each of the services have a set of core values that help identify and shape the character of its people.
I want to write just a bit about the core values of the Army because they are powerful and instructive to those of us who've never served. While each military branch has their own core values, over 36 percent of our veterans served in the Army and the core values of the other branches are found within these seven:
Loyalty—the Army defines loyalty as "believing in and devoting yourself to something or someone." Simply put, it is a commitment to love, care, and support your people. And leaders should always demonstrate loyalty first before asking for it from their people.
Duty—this means "fulfilling your obligations," and it's a picture of each member of a team doing his or her part with excellence to ensure the success of everyone.
Respect—I love how the Army defines this: "appreciate the best in other people." It's putting a "10" on everyone's head and trusting that they will live up to that belief.
Selfless Service—adding value to others by putting their needs ahead of your own. It's the willingness to exceed expectations so others will benefit.
Honor—living according to your values. We live with honor when our walk matches our talk.
Integrity—this is living authentically by being a person who doesn't deceive or intentionally mislead others. Integrity as a leader is the foundation upon which trust is built.
Personal Courage—courage is the willingness to act in the face of fear. We build our courage when we stand up for what we believe is right and good.
And did you notice that these values can be summed up by the acrostic LDRSHIP (leadership)?
I love that!
The Value of Veterans
There's so much good teaching that could come out of those seven values, but I want to shift gears a bit and speak directly to veterans.
Much is made of your service, and rightfully so. We see celebrations and acknowledgments of your valuable work everywhere from stadiums to the halls of Congress, and yet it is not easy for many of you to return to life post-service. There are challenges that you face, from serious issues like homelessness and mental health, to the everyday challenges of returning to life outside of the close-knit community of your unit.
After months and years as a soldier, sailor, or airman, transitioning to the role of civilian may be one of the hardest assignments you ever have. As you look to find your new way forward, I want to say something that I hope will be encouraging.
While I don't know your reasons for joining the military, I do know that your time in uniform instilled in you the capacity for leadership, growth, and purpose. You know what it means to live a life adds value to others, and you know how to get things done with excellence. The values that defined your time in the service are transferrable to your life beyond the service, and we need those values in the public sphere.
I've written often about the leadership deficit we face in our country, and men and women of your character and caliber can and should find a home among those of us who want to see good values make a comeback.
There is a difference between purpose and calling: purpose is your why, the reason for your life, and it's expressed through your calling, the work of your life.
Your purpose didn't end the day your military career did—it continues, and finds expression in a new calling, whatever that may be.
So I want to encourage you to find a new community to join, to find new partnerships that will allow you to engage and grow your leadership skills in the civilian world. Start a new business, volunteer, be part of something that you personally find enriching, and make your days continue to count for significance.
We need you as much today as we did when you wore the uniform. Maybe we need you more.
One thing is certain, however—today, we honor and celebrate you. We give you our gratitude for all you've done, and we look forward to all you'll do next.
Happy Veterans Day. May God bless you.