The Attitude Factor of Personal Growth and Its Impact on Your Success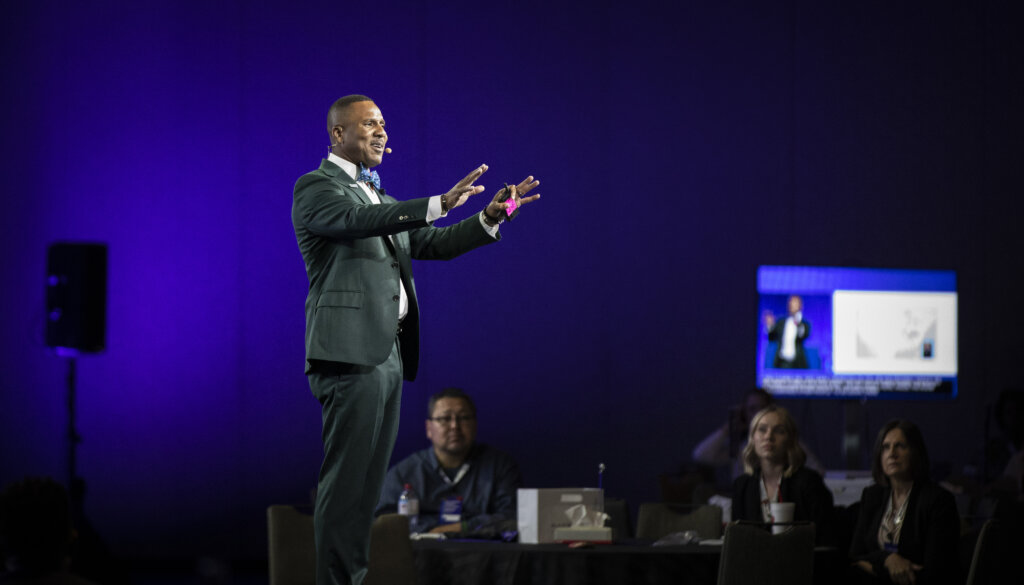 One of the most frustrating moments in life is when we're doing everything "right" – right people, clear goals, brilliant strategy, effective communication skills, excellent processes – and we still don't see results. When people come to us with this problem, we start to focus inward and ask about the one thing people don't really pay attention to until there's an issue: their attitude. The world's greatest achievements have been made by people who were only just a bit better than their peers – and often that difference was their attitude.
We're continuing our series discussing the five growth lanes of C.L.E.A.R. by Maxwell Leadership® by focusing on Attitude and the impact our attitude has on our personal growth and success. Whether you're looking for ways to continue your personal growth in a specific area or achieve your leadership development goals, you don't have to do it alone! We've developed C.L.E.A.R. to provide you not only the resources, but also the guides and the community to partner with you each step of the way. We invite you to follow along with our blogs in this series, and when you're ready, learn more and subscribe to C.L.E.A.R. – your interactive, digital guide for personal growth and developing the leader in you.
The following is adapted from teachings by John C. Maxwell and C.L.E.A.R. Guide to Attitude Chris Robinson.
Our attitude is the primary force that will determine whether we succeed or fail.
INFLUENCE IS AN INSIDE JOB.
No matter what people say or actually do, at the end of the day, what others respond to is a person's prevailing attitude. We like to say that influence is an inside job: what happens in you determines what happens through you. In other words, your attitude determines your ability to influence others. And leadership is influence.
ATTITUDE IS CONTAGIOUS.
There are a lot of things in our organizations or daily lives that are not contagious: experience, discipline, instinct, talent. But what is contagious is our attitude. People naturally have a tendency to adopt the attitudes and energy of the people around them – especially people in leadership positions. When you are upbeat and encouraging, even in the face of challenges, others are likely to pick up on that energy and have a similar disposition when they encounter barriers. The opposite is also true. If you tend to start conversations from a place of negativity or have an energy that doesn't project optimism, the people around you will internalize that. They will also have a more negative attitude, which ultimately affects major aspects of our lives and productivity, like receptiveness to change, efficiency, and motivation.
ATTITUDE CHECK: WHAT ARE YOU PROJECTING?
So how do you figure out what kind of attitude you're projecting? It might seem simple, but you can start observing how people respond to you and the way they behave after interacting with you. Do they seem to leave better or worse? Do they appear encouraged, have clarity, and project positivity with others? Or do they seem more discouraged, confused, or withdrawn? Also don't be afraid to ask the people around you – especially those who may view you as a leader and those who witness you in a variety of situations (leadership, friendship, family interactions, etc.) – how they typically feel after they interact with you.
CULTIVATE AN ATTITUDE OF GROWTH.
If you find that your attitude needs some improvement, there are two simple things you can start doing today to cultivate an attitude of growth:
Consume what you want to project: If your daily inputs are primarily negative, stress-inducing, and putting you in a negative headspace, try balancing them out with more positive material and interactions. That can mean changing what you read, some of the people to you spend time with, or just adding a fun or inspiring activity to your schedule. We can't (and shouldn't) eliminate all the negativity in life, but we can control what we consume and how often.
Achieve a goal a day: Sometimes we get into a negativity rut because we just aren't seeing progress in our lives – from our work to our health to our relationships. If this sounds like you, try setting an achievable micro-goal for yourself each day. As you start to see yourself start a pattern of positive achievement, you'll start to see your attitude change from one of discouragement to one of growth.
Our attitude is a foundational aspect of how we influence others, and although it may seem obvious, we often forget to nurture this aspect of who we are and how we interact with the world. When you start to turn your attitude around, you'll start to see a change in your ability to lead powerful, positive change in yourself, in others, in your organization, and in the world.
Get to Know Your C.L.E.A.R. Guide for Attitude: Chris Robinson
Chris has been indirectly mentored by John Maxwell for more than 20 years! He began watching VHS tapes, then transitioned into becoming part of the certified coaching team. This gave Chris proximity to John but not quite the personal touch. Chris continued to study, learn, and grow, and now he has the privilege to be directly mentored by John. Today, Chris is the founder of R3 Coaching, a company dedicated to helping individuals and businesses achieve their personal and business growth goals. He is an international speaker and serves as the Executive Vice President of Maxwell Leadership, leading the entrepreneur solutions team, which serves more than 40,000 Maxwell Leadership Certified Team of speakers, coaches, and trainers worldwide. John hand-picked him to be the C.L.E.A.R. guide to Attitude because of his positivity, growth, and continued drive to grow in this area. Here's Chris in his words: "I have seen the impact of my attitude and how it has affected everything that I do and made a tremendous difference in my life." Chris cannot wait to share, teach, and guide you in the importance of attitude and how it will greatly improve your life!
Looking for More? Subscribe to C.L.E.A.R. – Your Personal Growth Plan
C.L.E.A.R. by Maxwell Leadership is your interactive, digital guide for personal growth. C.L.E.A.R. is an acronym for five lanes of growth that leadership and personal growth expert John C. Maxwell believes is the path to develop your personal growth and leadership: Communication, Leadership, Equipping, Attitude, and Relationships. No matter where you are on your personal growth journey, C.L.E.A.R. by Maxwell Leadership will help you get to the next level.