Movement Mortgage CEO Casey Crawford Reveals Secrets to Changing Careers and Keeping Your Mission Alive While Scaling Up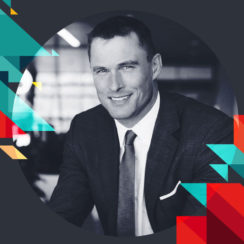 NFL Super Bowl champion player Casey Crawford co-founded Movement Mortgage at a seemingly inopportune time: the Great Recession had taken a firm hold on the financial services sector and the traditional mortgage industry was in its death throes.
Where other leaders would likely see crisis, he saw opportunity. Crawford shared how he did it and the valuable lessons learned with our Executive Circle members during this year's second corporate icon call.
It's not uncommon for great achievers to feel the need to end an endeavor at the peak of their performance, to "go out on top." However, that's not why Crawford made the heartfelt decision to leave the NFL just after winning his first Super Bowl victory in 2003. In fact, he realized that there was more joy in the journey of getting there as an underdog team that had never even won a conference championship than in the goal itself. Despite his love of the game, it didn't connect to a greater passion; Crawford wanted to have eternal impact on something.
Crawford realized the financial crisis had completely eroded trust in banks, yet there was still a tremendous need in the community for mortgages because owning a home is the largest determinant of wealth building and families that own homes are more likely to stay together.
Eight years after starting Movement Mortgage with four employees, Crawford would grow to 4,000 and serve one out of every 70 homebuyers in the U.S. He's still moving forward with the same compelling vision, and he's learned and applied several principles along the way.
Don't leave something — go TOWARD something.
It's not easy to leave a championship football team right after a Super Bowl victory. That is an impossible to thing to not regret later unless you are moving to something that you are passionate about. Crawford was able to give up the security of being part of the winning team because he knew that he was going to write a new story where he could be different and set himself apart. Don't leave a situation for the sake of leaving it, only do so when you are going to something you are excited about.
Live out what you love and then wrap a business around it.
Creating value with love is the foundation of businesses run by successful leaders. Instead of looking for an opportunity that makes the most money or affords the best lifestyle, start with a passion that allows you to accomplish your values. When you wrap a business around those ideals, leadership flows naturally and you will naturally attract people who share those values that you can bring to their fullest potential.
Go fast and break things (with guard rails).
Large companies can constrain creativity, so Crawford learned to break teams down into the smallest groups possible and then give those groups autonomy. Keep them on track with specific goals, but empower them to achieve and give them space to stretch and realize their full potential. Give them permission to experiment and fail with a safety net in place so they don't fear getting too far off track.
Have a vision that's big enough to grow into.
You might say Crawford has made it, but he doesn't feel that way at all. The way he sees it, his company only as 1.5% market share leaving 98.5% up for grabs. That gives him plenty of room to grow employees who he knows want more than coming into an office and earning above average reviews. They want to be part of something with eternal significance, which is one reason why 73% of his team members donate a portion of their salaries (which he matches) to the company's internal benevolence program.
One thing Crawford also learned is that sharing values is a two-way street. He employees many Millennials who watched their parents get devastated by the financial crisis and grew to mistrust institutions. They are attracted to Movement Mortgage because it has a purpose bigger than profit. The company has donated more than $40 million to charter schools, affordable housing and urban healthcare clinics — all to help members of the community that are unlikely to become Movement Mortgage clients. That's how Crawford does business.
Millennial employees have also taught Crawford how to loosen up. He stopped wearing suits to work at their behest and built a more fun t-shirt wearing culture that they value. He likes it better that way, too.
Next month Executive Circle members will enjoy another exclusive call with Horst Schulze, Chairman & CEO of Capella Hotel group.