Family-Run Business Wins by Realigning to its Roots — Thanks to Vision of Rick Keyes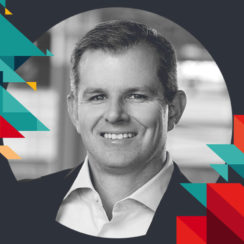 Rick Keyes leads one of the most respected retail supercenter chain outlets in the Midwest, the Meijer family of brands. And 'family' is the operative word here, as the Meijer family has run the organization since its founding by Hendrik Meijer more than 80 years ago. That is, until Rick Keyes was asked to take charge during a period where Meijer found profits falling. Rick's response was to flatly declare that profits in the short term might need to be driven-down even further to make the lasting, organizational and cultural changes that Meijer needed to ensure success well into the future. As part of our Executive Circle Leadership series, Rick Keyes explained why such a tightly-knit, family-run business was willing to trust him to move the organization forward with such a bold plan.
Rick highlighted the special culture of Meijer that is so unique in today's often homogeneous corporate environment. Meijer actually has close to 2,000 team members that have been with the company for nearly 30 years or more, including Rick. Rick first started in the pharmacy department and worked all the way to CEO. "There's something special about our culture and that's why I've always gravitated to Meijer," Rick said. "And once I became pharmacy team leader I started to fall in love with the idea of leadership."
Solid core values build a strong foundation
Once outside the pharmacy department, Rick would spend time walking the store location where he worked, meeting its 600-700 employees. He learned rather quickly that he "didn't have all the answers," and that his fellow team members were a tremendous resource for coming together to build solutions around the common challenges the company faced.
Through this journey, Rick developed philosophies on leadership that he leveraged to make some of the later changes at Meijer when he took the helm. "One of my guiding ideas is a secret to happiness imparted on me by my father," Rick shared. "The secret to happiness is giving to others and finding ways to help make other people happy. Caring about someone goes to the heart of dignity and respect, which is a core principle for Meijer. If you really respect someone, you're going to do everything you can to help them to be as successful as they possibly can be. And sometimes that's the hard conversation that includes challenging them to do things that they never thought they'd be able to do before."
Another inspiration came from Meijer's 92-year-old son of the original founder, Fred Meijer. Fred believed that the complexities of business can creep into a leader's decision-making process, making it more complex than it should be. Fred's solution was to highlight the importance of values. If a leader's values are driving a principled decision, then that decision becomes much clearer and easier to make.
"Our culture is the secret sauce at Meijer," declared Rick. "It's what we live and breathe on. But coming out of the recession prior to me coming into the role as CEO, we had started to drift a bit on the culture within our organization."
A fresh perspective for a family business: Get back to what makes you strongest
When Rick was offered the chance to lead Meijer, the first-ever non-Meijer family member to take on the CEO role, he was very clear up front that he intended to take profits down even further in order to realign the company back to its core values. Meijer boldly supported him in this decision. "We took our entire strategy, we set it aside and we said we're going to build a strategic focus that every single person in the company can understand. It can be boiled down to three concepts: Number one is that we're putting the customer at the center of our decisions. Number two is we're going to win with our team, and we're going to be relentless about making sure that we enable and empower our teams to win. And number three is that we're going to have a passion to compete."
"All of a sudden you could see our team just light up with engagement," said Rick. "And so we have started to see significant improvements across our business over the last three years." These improvements include a company that's now 70,000 team members strong with approximately 19 billion dollars in revenue, and it's an even stronger version of the company that Rick Keyes fell in love with years ago.
The John Maxwell Company helps family businesses large and small thrive by embracing their unique culture and values. (Read our Davis Automotive study for another example)
Are you empowering your teams to win? Click here to learn how you can facilitate workshops, such as our "Accelerating Teamwork Workshop," within your organization to build and develop your teams. And, stay tuned for the next edition of Executive Circle with Bob Hammer, Chairman, President & CEO of Commvault coming up in June.