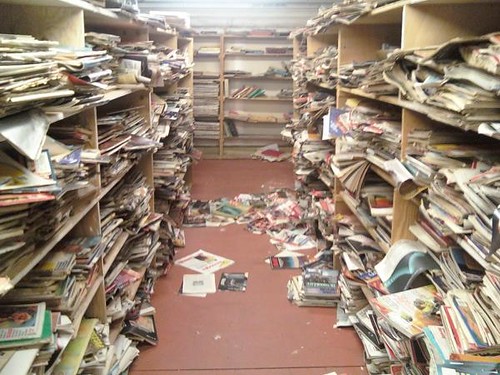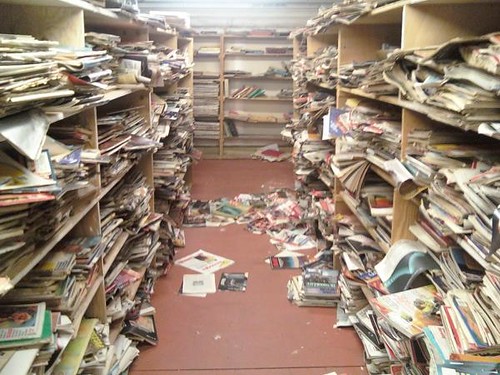 A few posts ago, I described how I jump-start my creativity with quotes and articles from others. I wrote that whenever I need to prepare a new book, lesson, article, or sermon, the first thing I do is pull all of my files on the topic. I've spoken and written about this a lot. But I always get a follow-up question:
How do I CREATE the files?
Just the other day, Paul Peterson (@paulpeterson) sent me this Tweet:
"Could you write a blog post in which you share your system for filing what you read for future purposes? Thanks a ton!"
For Paul, and you if you've been wondering, here is how I've been collecting quotes and articles for over 30 years:
Where I file:
I have two main systems for filing away the quotes and materials I collect: index cards and lateral files.
Index cards are filed alphabetically in card boxes. They contain quotes, written or taped to the front and back, with sources included whenever I know them. As soon as a card on a topic fills up, I just start a new card. I have hundreds of quotes for some subjects, and just a few for others. For example, I have quite a few cards for "delegation," and not quite as many for "management."
Lateral files are stuffed with folders in hanging files, arranged alphabetically by subject. Each subject folder contains larger pieces, like magazine or newspaper articles. If a manila folder gets too full, I just start another one which I file behind it.
Trivia Question: How many 5×8 cards (front and back) do you think I've filed in the course of 30+ years? **look for answer later in the article
Important note: I get asked all the time for the list of topics I use. Here's my answer: My list doesn't matter. Don't create a list of topics and try to fill them. Instead, create your topics as you find material that you want to file. You know what you speak or write about, and this will give you a personalized filing system that's easy for you to search through and use.
How I read:
Books: I mark them up as I read. I put brackets around sentences and paragraphs that contain ideas, quotes and illustrations that stand out. In the margin next to each I write the subject under which I want it filed. Then for each item, I turn to the inside of the front cover and write down the page number and subject. I do this throughout the book. Really good books will end up with dozens of passages listed inside the front cover.
Articles: I cut or tear the entire article out, writing the subject and source at the top. (I staple multiple pages together.)
How my staff files for me:
(Because you know I delegated this task as soon as I had someone to delegate it to.)
Quotes: With a marked-up book, a staff member uses the list at the front of the book to find the passages I want to collect. They make copies of all of those pages. Then they cut each passage to size, attach it to a 5×8 index card under the appropriate subject, and write in the source. After so many years of collecting, at least one card probably exists for almost every subject I want to file. If not, my staffer just creates one.
**I have approximately 4,000 individual cards filed away.
Articles: These are filed in their entirety in manila folders under the subject noted. My office contains hundreds of article files in multiple lateral file cabinets.
Using my files.
These are the files I draw from. Whatever I'm writing, my first step is always to pull all the files and cards on that subject and have them on my desk beside my legal pad, scissors and scotch tape. (I also carry these supplies in my briefcase at all times.)
My one nod to technology in my office is a copier. On it I make duplicates of any quote I want to use, since I don't want to cut up my cards. (I still have all of my original cards, going back 30+ years.)
I start writing on my legal pad. Then whenever I want to use a quote or article, I cut out the passage from the photocopy and tape it right into my outline (writing in the source). If it's from a card, I mark the original card to indicate the audience I'm using it for. That way I can avoid delivering the same illustrations to the same group of people.
Share your tips!
I hope this is helpful to you. I'm sure some of you might have systems that are even better than mine. You might even use [shudder] your computer!
Please share with us in the comments: What would you add? How do you structure your files? If you do it on computer, what programs do you use? Let's help each other improve.