How To Bridge the Generation Gap in the Workplace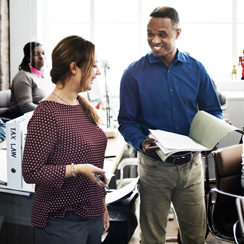 Without intention, it is easy for executives to overlook the significant generation gap that exists in our ecosystem, as well as the responsibility to share our wisdom in a way that can be absorbed and appreciated. If we want to connect to a younger generation — or an older one for that matter — we must respect and understand that each of us come from different backgrounds, have had diverse experiences, and bring something unique to the table.
This should be considered an asset. We should all take the time to connect and appreciate each other's strengths.
And here's the main point: People, all people, do what they see. If the leaders in your company practice their roles with empathy, excellence and authenticity — with grit, their efforts will multiply.
In the past, our company has shared key methods for keeping millennial employees engaged, as well as how to model authentic leadership for millennials. Taken together, these strategies are critical to bridging the generation gap in the workplace.
Invest in professional growth.
Leaders build resiliency in their companies through concrete actions. It is important to foster and build strong working bonds. Set up weekly or monthly check-ins and always look out for ways you can add value to a relationship.
Remember that your own resilience is strengthened when the people on your team feel supported.
Investing portions of your human capital training budget into interactive, onsite workshops is a great place to start. Or keep an eye on our workshop offerings for great upcoming events in your location. Bring your employees along to show them you mean business when it comes to their personal growth – and yours!
Mentorship programs also offer fantastic ways to help employees improve their own network, teach new skills and develop leadership qualities. Remember that millennials thrive on feedback —don't we all – so be sure to have some kind of consultative measurement segment built into your programming.
Capitalize on the social affinity of millennials.

Millennials have come of age during a technology revolution. They thrive in social settings and like to network electronically worldwide. Harness this skill and assist them in building their professional relationships and leaping over the generation gap in the workplace.
Their strong communication skills will only further benefit your company — both from within and in how they represent it to others.
Encourage people to be creative.

This can come in many forms, but the purpose is to let employees know that their input is valued. Through ideation, your young employees could develop a new initiative for your company that takes it to the next level.
Micro-management is the barrier to innovation. Communicate the mission and values of a project, and then take a step back. This is also a key aspect in developing leadership qualities in young employees.
Listen.
Communication is about the sharing of information; it is not about talking at someone. Millennials are interested in contributing, building and being a part of something that matters. When employees feel comfortable sharing their own ideas, their goals develop real meaning.
We all work harder for the things we really want and care about, so it is essential for successful businesses to support employees in the development of their goals. Listening also allows us to better understand how we can improve as people and professionals. No one is above improvement.
Don't forget your sense of humor.

When my employee showed my age to our roomful of colleagues, I didn't flinch. Instead of faltering or becoming embarrassed, I embraced the folly of my own assumptions and laughed out loud, along with the rest of the room.
Humor is disarming, and is critical for team-building. When a team laughs together it helps to facilitate a sense of community and enhances a cohesive corporate culture. Bridging the generation gap in the workplace is in essence about belonging, feeling valued and having confidence that your voice is being heard – no matter our defined generational identity.
---
Linda McGuigan is President of Corporate Leadership Solutions for The John Maxwell Company, a provider of corporate leadership development training and coaching programs and workshops, as well as personal growth products. The company's fully custom offerings are built on the timeless principles of John C. Maxwell, a #1 New York Times best-selling author, coach and speaker who has sold more than 26 million books in 50 languages.