Steve Green Defines the Winning Principles Behind the Success of Hobby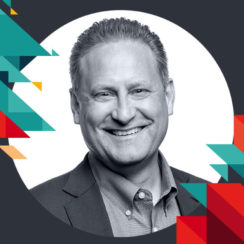 When Steve Green, President of Hobby Lobby, graduated high school, he already knew exactly what he wanted to do with his life.
He was joining the family business, which at the time included 6 stores, but has now grown to over 800 stores across 47 states. Steve shared his thoughts behind this success with John Maxwell and The John Maxwell Company CEO Mark Cole during the January installment of our executive roundtable series.
Steve began his session discussing one of the cornerstones of this family-run business—his father—as it was the lessons his father learned early in the business that helped shaped some of Steve's core philosophies on leadership and management. One of his father insights, honed during his own early years working in general merchandising, was that people need to have the room to learn from their mistakes. Both Steve and his father feel that while this room should not be big enough to keep repeating the same mistakes, employees do need the space to learn and grow.
Space and balance are key components to help employees thrive
He feels that with high performers in retails it's not as much education it is as it is application. Those who succeed are willing to apply themselves and work diligently. To lead these types of performers, Steve feels that a combination of love and discipline are needed. It's the balance of encouraging growth, but also knowing when someone needs to be let go.
One specific example Steve cited was how his father watched other organizations put far too much pressure on store managers to handle every aspect of the retail business.
That's why Hobby Lobby defined a primary mission for the corporate staff to actually serve the needs of their store managers. The company features dedicated buyers that are the foremost experts in the area of products that they are responsible for, shifting the responsibility away from store managers so they can focus on their primary duties in running the store.
Steve also honed in on two key components that arch over the decision-making process made at Hobby Lobby. One is to keep "striving, never arriving," and the other is to keep things simple.
What does this mean in practice? As an example, Steve discussed learning from the competition. His organization thoroughly studies the competition and makes realignments where needed, but when they do make changes, the corrections take the form of a simplified, repeatable process that can be duplicated for every store. Hobby Lobby even uses a clean, streamlined 1-page report to provide every vital statistic on a store location going back decades, including successes, failures, competitive changes and the impact of moving to a new location. At this point, John Maxwell added some insight, "All of this simplification is just good common sense," he shared. "How do you reduce doubt on the part of the team? You break things down into digestible pieces to make comprehension and communication easier."
Sticking to core principles
Steve highlighted another effort that underpins the entire Hobby Lobby organization. He strongly believes that good leadership adheres to biblical principles about the structure of authority, and how concepts of authority in this context are not dictatorial and domineering—they're loving and with a mindset of serving. "The greatest leaders are there to serve all of those that they are leading," Steve explained.
As an example Steve discussed the 50+ new stores Hobby Lobby is opening and how they had a problem with staffing turnaround at their warehouses.
Their solution was to raise their wages to $15.00 an hour and then apply a cost of living increase. By providing a higher wage, they attracted and retained the right people, and their revenue was able to support this increase because they had the right people in those positions. But part of this ideal also comes back to this core idea of serving others, something that Steve firmly believes in, as Hobby Lobby now proudly donates half of its corporate profits to charitable causes.
Next month Executive Circle members will enjoy another exclusive call with Carly Fiorina, Retired Chief Executive Officer, Hewlett-Packard Company.