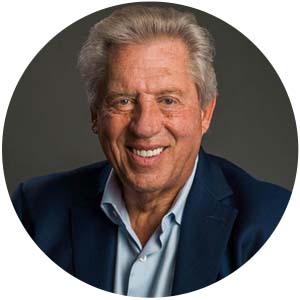 John C. Maxwell
#1 Leadership Expert and Best-Selling Author
I've spent the last 40 years inspiring and challenging people from numerous Fortune 500 companies, national trade associations, nonprofits, and educational institutions to grow, change, and find their passion.
Every year I have the opportunity to speak to people around the world about the life-changing principles and defining moments that have impacted my life. There's nothing like making the human connection and forming new relationships and bonds.
Speaking is really my first passion. I love challenging and motivating audiences with real-life stories and timeless principles that I always back with actionable steps.
I tailor each presentation to the needs of my specific audience, and I always give practical steps for them to live out what they learn.
I've also authored more than 100 books on the topics of leadership, capacity, teamwork, relationships, attitude, success, personal growth, and communication.
Expertise & Topics
Here are some topics we might cover together:
---
The 15 Invaluable Laws Of Growth
Are there tried and true principles that are always certain to help a person grow? I say the answer is yes. I have been passionate about personal development for more than 40 years, and I teach everything I have gleaned about what it takes to reach our potential.
The 5 Levels Of Leadership
I talk about one of my key leadership concepts, The 5 Levels of Leadership, and how every individual can increase their influence and their results by applying the 5 levels to their leadership walk.
How To Be A Real Success
I share the principles that shape every individual's success by focusing on Relationships, Equipping, Attitude, and Leadership.
The 21 Irrefutable Laws Of Leadership
I share my foundational truths of leadership through personal anecdotes and real-life examples from business, politics, sports, religion, and the military.
The 17 Indisputable Laws Of Teamwork
I illustrate the laws of teamwork at work in every area of an individual's life and teach key principles that enable teams to succeed.
Everyone Communicates, Few Connect
I discuss the five connecting principles and the five connecting practices that help individuals influence change and get results.
The 360° Leader
I illustrate my belief about how individuals can lead up, down, and across regardless of a person's position in an organization.
Put Your Dream To The Test
I guide my audience through a series of questions, that, when answered, help individuals make good decisions and maximize every moment to achieve their dreams.
Today Matters
I challenge every person to make today the most important day in an effort to build toward a better tomorrow with simple principles, tips, and guides that anyone can immediately apply.
Proud to have partnered with
---