Executive Podcast #238: The 5 Things Leaders Do

In an interview at the International Maxwell Conference (IMC) in Orlando, Florida, Maxwell Leadership thought leader Joel Manby described his view of what leaders need to be doing.
Joel is the former CEO of SeaWorld Parks & Entertainment and former President and Chief Executive Officer of Herschend Family Entertainment, the largest family-owned theme park corporation in the United States. He and his company were featured in the seventh episode of the first season of CBS's Undercover Boss. Manby also wrote Love Works about HFE's unique business culture.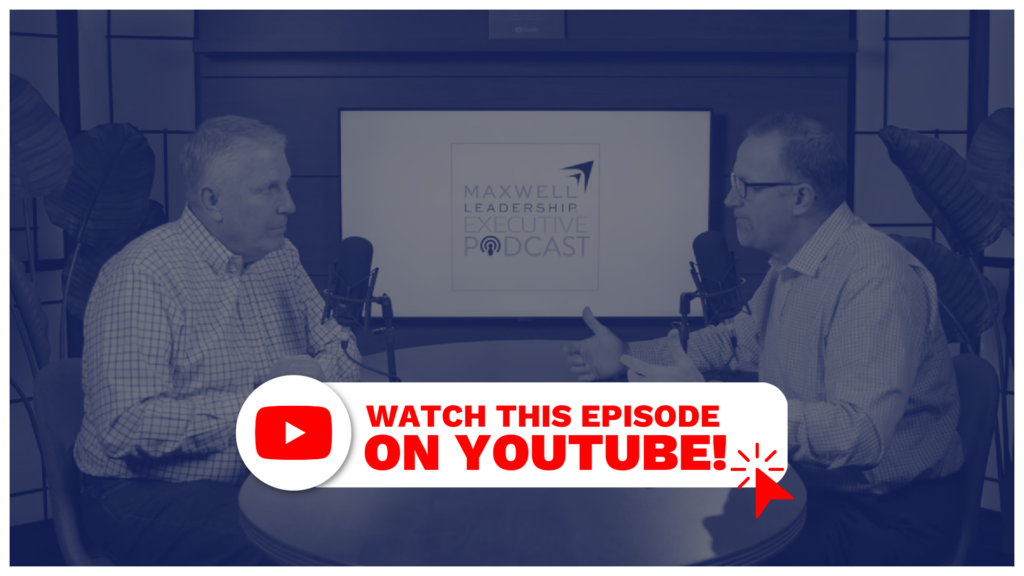 Download our Learning Guide for this podcast!
Perry Holley:
Welcome to the Maxwell Leadership Executive Podcast, where our goal is to help you increase your reputation as a leader, increase your ability to influence others and increase your ability to fully engage your team to deliver remarkable results. Hi, I'm Perry Holley, a Maxwell Leadership facilitator and coach.
Chris Goede:
And I'm Chris Goede, executive vice president with Maxwell Leadership. Welcome and thank you for joining. I want to encourage you to go to maxwellleadership.com/podcast. There you can fill out a form if you're interested in us as a team coming in and helping enhance the culture, develop your leaders, maybe do some coaching around the five levels of leadership, 360 degree leader, things that we are able to do with organizations around the world and we love doing it, making an impact. Or if you have a question or a topic for a future episode, we'd love for you to leave that on that form as well.
Perry Holley:
Love for you to leave that.
Chris Goede:
Yes, and submit that there at maxwellleadership.com/podcast. Today's topic is titled The Five Things Leaders Do. Now, I'm super excited to use the number five, but there's only five things we have to do as a leader?
Perry Holley:
Well, I got this from you in an interview I saw you do at International Maxwell Conference in Orlando a few weeks ago, and you interviewed one of our thought leaders, Joel Manby. I'll let you introduce who Joel is. But I was in the room and with, actually it was with dinner with you, with Joel, the night before, we had a big discussion about these things and I thought, "Really, is it five things?" So when you were doing the interview, I took out a piece of paper and started making some notes. I thought, "This is very interesting." And I'll share in a minute why run the business is not number one or two. I thought, "Oh my gosh. What?" So why don't you tell us who Joel is.
Chris Goede:
Yeah. Especially when you say that at the level of which he led, right?
Perry Holley:
Yeah.
Chris Goede:
You go, "Manby, you're responsible to publicly traded shareholders," and all kinds of stuff and that was not his number one, which I love that point. So as you mentioned, Joel Manby is a thought leader here at Maxwell Leadership, and as we move as an organization to this philosophy of what we believe is leadership, Joel fills a tremendous need for us at the executive level of leadership. And man, he has led so well with values, wrote a great book, Love Works, and you're like, "Wait a minute. He wrote a book about love works and he used the word love in publicly traded companies?" And we're like, "Yes, he's done it and changed cultures around." He's really kind of a turnaround leader and has done an incredible job and his resume speaks for that.
He was CEO at Saab back in the day. Some of you listening may not know what that, it used to be or is still a international automobile company. And then also he did Herschend Entertainment and then SeaWorld. And now, what I love about Joel is, he's just got a heart for leaders and he knows that at the executive level of leadership, it's a lonely journey and he's spending his time now working with us, with executive leaders, and he is just helping coach and lead them through those times.
And so one of the things I'll just tell you real quick, you mentioned that interview, I'll tell you what, I'll have our team put together some clips out of that interview. If you're interested in seeing that go to maxwellleadership.com/podcast and just say, "I want to see the clips from the interview with Joel Manby," and we'll send that to you. Because there's some really good outtakes, and you and I were just talking about it before we started recording. Man, we said he was so well-prepared and he is, he does, but it just comes out. You can tell that he lived this in all the organizations that he's led.
To be a Successful Leader, You Need Feedback on Your Leadership.
We're excited to announce our new and improved Organizational Effectiveness Survey (OES). The OES gathers feedback from employees to give leaders and management the knowledge and action plans needed to develop a more effective and productive work environment. Our new version measures 4 areas of your business: Leadership, People, Strategy, and Performance.
Perry Holley:
Yeah, it was very good. And I don't know my expectation. It really exceeded what I was thinking that you guys were going to talk about because of what I'd heard the night before, but it really resonated with me. So let me give you the five and you tell us what you think. Number one, as I said, it was not run the business. Number one was that a leader needs to be continually sharing the mission, vision of the organization. I put it here, just spoiler alert, run the business is number three. So you're probably where most leaders think that's number one. Tell me as you lead in this organization and you see Mark and our team doing that, how do you square this that we continually share and that's number one?
Chris Goede:
Yeah. I think this is something that you may hear and you may say, "Oh, well that makes sense." But are we really doing it as leaders and are we repeating it often? Matter of fact, every meeting. It's interesting you mentioned Mark and how he's leading in our weekly leadership meetings. He is repeating to the fact that we're just like, "Okay, we got it." And he's like, "Well, what is it?" And then we're like, "Uh." "Okay, you don't have it. We're going to keep repeating it." So as leaders, we need to continue to do that. And I think when you do that, it continues to provide purpose on what we're doing and the importance of what we are doing tied to that purpose, all the different verticals inside our team. And that also then fosters alignment with all the leaders that are in that room and all the people that are on the team.
When you do this it provides purpose, it fosters alignment, I think it also helps, it's a decision making filter for me as a leader inside the organization. I think when you do that, it helps you in making decisions so that you can stay in alignment with what you hear over and over and over. Does this align with our mission and vision as an organization? That helps me make decisions. And then finally the last one that I wrote down here in my notes was, it provides a competitive advantage. If you have a distinct mission and vision and you live by that and you live that out, not only internally with your team but also externally with your clients or your customers, I think it can give you a competitive advantage. And so you should be talking about it. You should be continually sharing this no matter where you go and what that looks like.
Perry Holley:
Yeah, I was leading at a senior level at one point in my career, reporting to the CEO, and he had the most amazing way of always putting, like you'd mentioned of Mark, always putting the mission and vision out there. What are we doing? Where are we going? And he could find, like you said, there's no lack of things to do. It's a decision making. Based on where we're going, is this the wise thing for us to be doing now? It's not a bad idea, but it's not really pertinent to where we're going. And so if you really clear on your mission and vision, what we're about, where we're heading, then the decisions begin to flow into that. That's why it's number one out there.
Number two, Joel said, was to live the values, live the organizational values. This is spectacular. It's so big to me because, like you had mentioned before, we do a lot of teaching on culture and we are helping companies understand how to build a culture. And it starts with your core values, but if I had to say where most organizations don't design a culture, they default to a culture, is they do a great job of making a really nice poster that has the five core values, it's in the break room, right next to a refrigerator. But as I make my way around the organization saying, "Which one of the values do you like the most?" They go, "The what?" They don't know them. And it starts at the top. We've mentioned it's visual. And so people seeing you talking about the values. I'd love to hear your thought on that.
Chris Goede:
Yeah. I think this is something that, as a leader, I would encourage you. It reminds me, growing up you hear, "Hey, let's make sure that we're just not talking about it, that we're actually walking the talk." And I would encourage leaders to make this something that not only are, we talked about the mission and vision, but as we're living out these values, what do these values mean and what does it look like to be lived out? And periodically maybe ask your team to go around and start meetings saying, "Hey, give me a two and a half, three minute clip on… Perry, what do you think about our third value? What does that look like? What does that look like internally, externally?" And begin to where they begin to talk about what that looks like and then make sure that your team is living that out.
That doesn't happen unless you are living out those values. I think you set the tone as the leader by doing that. I think it establishes credibility for you as a leader and the organization, by the way. If you're out with customers or whatever and you're not living the values, I'll give you an example. You're on the road quite a bit. You are Maxwell Leadership along with some of our other facilitators and coaches. You are Maxwell Leadership to them. And you are living out our values inside their organizations as you're coaching, as you're consulting, as you're facilitating content. And I think that's just so key because then, there's a little bit of a differentiator, but it becomes contagious to them. And then you can come back to our team and share stories and testimonies and it's evident that you are living out those values as a leader inside the organization while you're with other organizations. So it establishes credibility for you as a leader, but also for the organization.
And then also, I think, if you live these out, it increases employee engagement. We've mentioned on a previous podcast, the last thing that we want to do as a team member is if we see a leader not living out the values but expecting us to live out the values, we're going to check out. We're like, "I'm not doing that, because he or she's not living that out." And so I think if you live that and you model that and you're passionate and engaged about that, your team will then be engaged. And we all know that our team can be more engaged than they currently are. Gallup tells us that, was it 32%?
Perry Holley:
Yeah.
Chris Goede:
I think in the latest report. So we have, math's not real good, 68% of our team members that are not engaged. Could that be because as a leader we're not living out the values and that our walk doesn't align with our talk?
Perry Holley:
Yeah, it's very good. And the values are also decision making filters to say… I did this the other day, somebody said, "Well, we're trying to make a decision." I said, "What do the values say you should do?" And if you have that mission and vision and you're clear on where we're going and you have those core values, you're clear on how we do things here. All of a sudden direction and daily execution becomes a lot easier. And I love when leaders catch people, even their own senior leadership teams, catch themselves living the values, share stories, let people know this is how we do things here. It begins to stick and it makes a real difference.
Chris Goede:
Let me add one thing right there. I love that. As you see people living out the values, acknowledge that. And when you acknowledge it, acknowledge the value that you see them living out first and then lift up the individual for living them out. Because your values inside the organization are not going to change. People inside the organization are going to change. So make sure that you continue to emphasize as you see people living them out, make sure you're emphasizing the value that you see. And then thank the individual for living that value out.
Maxwell Leadership Growth Plan:
Leaders, you know better than anyone that growth is essential if you want to make tomorrow better than today. But fitting growth into your calendar takes intentionality and self-discipline. So let Maxwell Leadership help make your growth achievable. You're invited to join thousands of worldwide leaders in using the Maxwell Leadership Growth Plan. The Maxwell Leadership Growth Plan provides you with convenient and easy to implement leadership resources, including video lessons from John Maxwell, all at your fingertips. Available in our Maxwell Leadership app or online. You'll be coached by many well-known leadership experts that will help you achieve your growth goals. You can even listen to this podcast right there in the app. Check it out for free today at growth.maxwellleadership.com. That's growth.maxwellleadership.com.
Perry Holley:
Number three. Here we are.
Chris Goede:
Finally.
Perry Holley:
Finally.
Chris Goede:
Time shareholders are wondering when we're going to get there.
Perry Holley:
Time to run the business.
Chris Goede:
Yeah.
Perry Holley:
Why is it number three and what does it mean to run the business?
Chris Goede:
I think it's number three because it aligns directly with level three influence inside the five levels of leadership. You like how I did that?
Perry Holley:
I got it. My work is done here.
Chris Goede:
Yeah, that's right. Thank you. Perfect setup. At level three, John talks about level one, we have influence and we lead because of our title. Level two is because they give us permission. We've been able to build relationships and connect. And then level three is because we're producing and we are running the business effectively. And I think that we need to make sure that this is something we're always focused on, otherwise we wouldn't have a job. We wouldn't be here doing the podcast. And so I think as an organization, it's so important to do this. It sets a positive example when you're running the business and when you're in it. You've even made some comments to me recently about some leaders around our organization. You're like, "Man, it's good to see them in the business." It's good to see some movement happening there and it creates that positive environment and that example where we're going after and we're achieving some of its goals.
I think also, when you think about a leader running the business, you want to make sure that you are managing and allocating resources properly. That's going to look a little bit different depending on the season of your business, but it's so important for leaders to be doing that on a daily basis as they run the business. And then the other thing is, I think it builds trust and confidence in the team members, in your customers, in whatever, it might be your shareholders, when they see you actively reporting on having strategy around and running the business effectively.
Perry Holley:
Yeah, I love that. And the idea that, I think Joel would, he's so good at developing the leaders around him that you're not thinking, "Working in the business, working on the business." He definitely would work in the business a bit, like you said, resources and making sure. But he would really, working on the business, he was pull back, he put in senior leaders that were empowered and owned their parts of the business. But really fascinated became number three. I think the whole audience when he said, "Okay, number three, you run the business." What? Number four, what every leader should be doing is making people better. Joel mentioned that a leader's job is to make people successful. Are the people around you successful? And how would you coach people, other leaders here, to say, how do you make the people on your team better?
Chris Goede:
Yeah. John wrote a book called The Leader's Greatest Return. And a lot of people go, "What's this financial return? Where is it? Where's the formula?" And they're like, "No, no, no. The greatest return is developing people." And I think one of the things that's becoming very apparent in our organizations around the world is that people are wanting to be developed. They want to know, what is their career path? How are you going to develop me? Now, it comes across as a little bit of a selfish request, but they're looking for their journey and they're looking for people that are going to help them along that journey. And I've heard you say it, I know John mentioned it about people, they will definitely go along with you as you help them achieve their goals. And so what are you doing to develop?
We're all in the people business. No matter what industry we're in, we're in the people business and we need to think about how are we going about intentionally developing them and making them better. And when you do that, I think your retention of team members will increase without a shadow of a doubt. I also think that we talk a lot about culture inside organizations. If you're not making your people better, if you're not developing your people and then you grow as an organization and you have to go and hire from outside versus being able to promote within because you've made them better, I think you take a pretty big risk of that person not working out.
We talk about the fact that, "Hey, we'd much rather get people that understand our culture. We've developed them, we've made them better, and we promoted them that may not be as competent as someone we could hire from outside that may be a subject matter expert in that, but they don't get the culture and we haven't developed them." Hands down, all day long, I'll take the person internally if we've gone about making them better and developing them. And that's our job, that's our focus as a leader. And as Joel and I were talking and then even we were at dinner the night before, he was just talking about, "Man, this is the favorite part of what I do. This is essential as a leader. It's not number one, but it is in my top five, and we need to be focused on doing that."
Perry Holley:
Well, I think you use one area that you're really strong in, because one thing I like is that we kind of talk about it, you're talking about leading by example, that people are watching you. So it'd be very tough for you to ask people to be growing and improving and trying to make them better if you're not growing and improving and making yourself better. So I know one thing you and I do, we'll talk about, "What are you reading? What are you picking up lately? What are you seeing? What are you reading that I should read?" We're checking on each other. Another thing you mentioned in a previous podcast you do really well here is that you stay close enough to keep an eye on where are people, what's keeping them from not being successful? And you are an expert at removing barriers. Tell me what's in your way?
And so you can help people be better by, one, having a growth plan and having a development plan. And that's something that you check in with them quarterly about, are you following your development plan? But also, daily, where are you struggling? Where are you having trouble? And you're really good at blasting the rocks out of the way so that we can keep going through.
Chris Goede:
Keep going.
Perry Holley:
Yep.
Chris Goede:
That's good.
Perry Holley:
Number five, I love that he added this, he just said, "You got to stay healthy." One of your jobs as a leader, your top five is to stay healthy. It's often overlooked, I think. You are not going to be any good at the previous four things if you're not taking care of yourself. Your thoughts on that?
Chris Goede:
This is interesting, Joel-
Perry Holley:
You're not going to bring up five guys again, are you?
Chris Goede:
No, I'm not bringing that up by the way. That is a previous episode. They are a future sponsor. You'll understand that if you go back and listen. This is something that Joel and I have talked about several times before we did this interview, and he does, not an event for us, it's a group, we call it The Executive Circle. And he talked to me about this last year and he's like, "I feel like I need to add this." This is really something that he struggled with during his prime as a leader, and it cost him dearly. He would tell you that, because he wasn't healthy as an individual. And this is his heart goes towards making sure that leaders are staying healthy. And so this is now in his top five, and he talks about it quite a bit as leaders, and when you do this, it reduces stress, it improves your mental health, it sets a positive example for those around you.
Perry Holley:
And it's not just physical health.
Chris Goede:
No.
Perry Holley:
That's a big piece, but it's…
Chris Goede:
Right. Yeah. It's mental health as well. And I'm going to use the word balance right here, which I know, to have a healthy work-life balance is challenging. But man, if you're not being disciplined with your calendar and not working that in, he would argue, and I'm beginning to agree, that if you don't have margin, my wife likes to use that. It's like, "What does your margin look like in your calendar?" That you are not going to be a healthy leader physically, or to your point, the mental side of things. And I think what we, as all leaders, have gone through over the last three, four years in dealing with that, there's a lot of stress on the mental side right now of people in our organizations and leaders. So what are you doing to stay healthy? What does that look like? And so I just want to encourage you, as we talked about these five, these are Joel's five that he shared in an interview.
I think they're pretty strong. They're strong five as a former CEO of a publicly traded company. And I want to encourage you, if this is something that you go, "Man, like this guy's speaking my language," and you are an executive or a C-suite and you want to be a part of a future executive circle that he runs where it's a small group, usually between six and eight executives, that are on a monthly call that are about 90 minutes, where he goes through the 12 things once a month, the 12 things that he wants to share that he learned as an executive, then also comes with some one-on-one calls with him. If that's something you're interested, I want you to go to maxwellleadership.com/podcast. And in that form, I just want you to put, "I want to know more about the executive circle of Joel Manby."
Because I've had the opportunity to sit in on that. It is powerful, and he just shares what he has learned, he shares tools and just really speaks from the heart. And so I think these are five great things for us as leaders to be aware of. And I would just encourage you to take this list that Perry put together for us and just get back and reflect and say, "How am I doing on this?" Maybe even ask your significant other, how do you think I'm doing on this? Maybe some of your team members and get their feedback, because I do think these are essential.
Perry Holley:
Super. And I'm just recalling that we don't have many guests on our podcast, but we do from time to time. But we've only had one guest that came back three times. Had three episodes with Joel Manby, and so if you look back in the podcast library, you'll find three recordings with Joel. I believe you'll enjoy those as well. Don't forget the learner guide, comments, questions you have for us, all that can be done at maxwellleadership.com, as well as the offer that Chris has made to see the video clips from that interview, maxwellleadership.com/podcast. We love hearing from you. We're very grateful you'd spend this time with us today. That's all from the Maxwell Leadership Executive Podcast.