Executive Leadership in Challenging Environments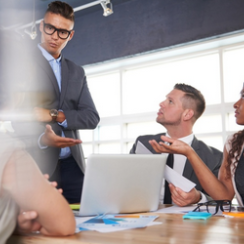 High-stress, challenging environments are becoming the new norm for executive leadership. According to a recent Robert Half Management Resources survey, 66 percent of chief financial officers said it was more challenging to be a company leader today than it was five years ago.
This is not at all surprising. We are in the midst of a rapidly changing work culture. Not only are we continuing to manage the challenges familiar to us, but also an onslaught of new issues with no clear framework for resolution.
It is critical to develop and maintain solid executive leadership through these challenges. Exemplary leadership is vital for a company to succeed and for employees to succeed at their individual professional goals.
Here are four ways I've found in my professional career to strengthen executive leadership — especially in our ever-increasingly challenging corporate atmosphere:
Expand your knowledge.
Do not fall victim to operating in silos; leaders today must take a broader organizational view, and not shut themselves off from other departments.
Having a wider range of knowledge is a powerful tool in executive leadership that also serves to build strong relationships not just within teams but also between teams.
Communicate to your team.
Hiring, recruitment, and sustainable retention is one of the more challenging tasks facing leaders today. On top of which, executives are frequently overseeing personnel in multiple locations.
Keeping employees motivated is key to successful leadership. It is important to discuss with employees how their role impacts the company as well as their own professional path. Executive leaders should also seek feedback on their communication skills from peers and team members to stay aware of how their leadership style impacts team motivation.
Be assertive, not aggressive.
This has been one of the greatest lessons I have learned along my career path, and is one of the most difficult tasks to master. Both attitude and approach affect not only how you represent yourself to colleagues but also your success in achieving your goals.
Executive leaders should listen with an open-mind just as often as they speak, and most importantly, accept that they can't — and shouldn't — control everything.
Prioritize yourself.
It is essential not to put too many tasks above taking care of yourself, or the tasks that would benefit you most. I find this especially difficult for women.
I have, at times, let myself slip down the priority list. I can tell you right now it is not something that can be sustained over a long period of time.
For executive leaders to inspire great output from their teams, they must first make sure that they can perform well. As an executive leader, you must recognize the value in self-development. Seek out mentors. Sign up for leadership development workshops. Invest in yourself.
This list is by no means extensive. But when practiced together, these points offer executive leaders a strong foundation for success in any challenging environment.